NRG Power Perspectives
Executive Blog
Catching Rays: NRG Brings Solar to Minnesota
May 16, 2017
Today we announced that our Renewables business has completed its first set of community solar projects in Minnesota, adding 32 Megawatts (MW-AC) to its growing portfolio of community solar projects already operating in Massachusetts and in development in New York.  
As a result, more than 1,000 Minnesota residents and more than a dozen large Minnesota businesses and municipalities will be receiving locally-produced bill credits from seven different solar farms. Some of those customers include:
Ecolab – the global leader in water, hygiene and energy technologies and services headquartered in St. Paul, with several corporate facilities subscribing.
Land O'Lakes – a national member-owned agricultural cooperative based in the Minneapolis-St. Paul suburb of Arden Hills, with its corporate headquarters subscribing;
Macy's – one of the nation's premier retailers, with three of its retail sites subscribing;
Red Wing Shoe Co. – the American footwear company based in Red Wing, Minn.;
U.S. Bank – the 5th largest commercial bank in the United States, with six sites subscribed, including the iconic U.S. Bank Plaza in Minneapolis
"Across Minnesota we are hearing the same strong message from residents and businesses alike: they want to be powered by affordable renewable energy," said Drew Warshaw, Vice President, Community Solar, NRG. "Community solar gives them that opportunity — a simple, cost-effective path for residents and businesses to go solar without having to put panels on their roofs."
Our initial projects in Minnesota include the following, with many more in various stages of development and construction:
Forest Lake Project in Washington County – 5 MW ac;
Farmington Project in Dakota County – 5 MW ac;
Pine Island Project in Goodhue County – 3.9 MW ac;
Highway 14 Project in Olmstead County – 5 MW ac;
Dodge Project in Dodge County – 5 MW ac;
Webster Project in Rice County – 5 MW ac; and
Wabasha Project in Wabasha County – 3 MW ac.
How it works: Business and residential customers in Minnesota subscribe to an NRG community solar farm by signing a 25-year Solar Subscription Agreement ("SSA"). Electricity generated at the solar farm goes to the local utility's grid. Customers then receive a bill credit from their utility — in this case, Xcel Energy, Inc. — for their subscribed share of the electricity produced by the community solar farm.  
Customers in turn get to support true "additionality" of home-grown solar energy in their community without having to put equipment on their roofs or property.  Customers should also receive savings on their electricity bill over time and a hedge against rising electricity costs.
"This partnership makes sense on numerous levels and we're pleased to be working with a company leading the clean energy movement," said Mark Urdahl, CEO of Red Wing Shoe Company. "It is the right thing to do for our planet and future generations, and it sets a positive example for our employees, customers and other stakeholders. What's more, it provides more predictability and control in our energy prices without interrupting our business operations."
Media Contact: Erik Linden – erik.linden@nrg.com or 609-524-4519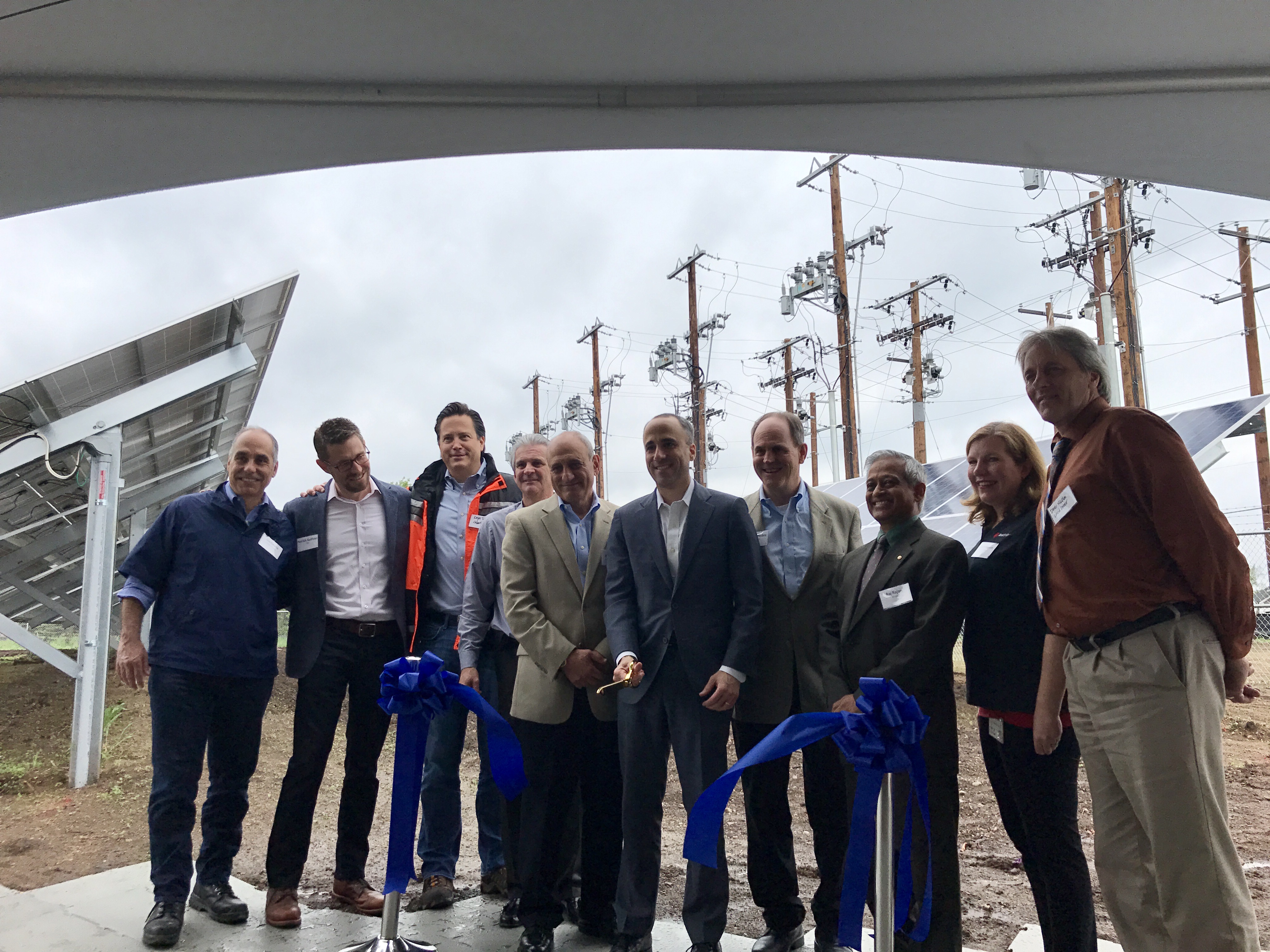 NRG's Drew Warshaw, (center) joins partners to cut the ribbon on our first community solar site in Minnesota.