NRG Power Perspectives
Executive Blog
DREAM Philadelphia Receives $100,000 from NRG Gives
May 24, 2017
Public Voting Campaign Awards Philadelphia-area Nonprofits a Total of $115,000 from NRG
NRG Gives, NRG's crowd-sourced charitable giving program, has counted up the public votes, and today, awarded its top donation of $100,000 to DREAM Philadelphia. 
DREAM Philadelphia's mission is to build communities of families and college students to empower youth from affordable housing neighborhoods to recognize their options, make informed decisions, and achieve their dreams. The NRG Gives program puts the power of nonprofit advocacy in the hands of the public, letting people vote from among three Philadelphia charities nominated by the company's employees to receive the top donation of $100,000.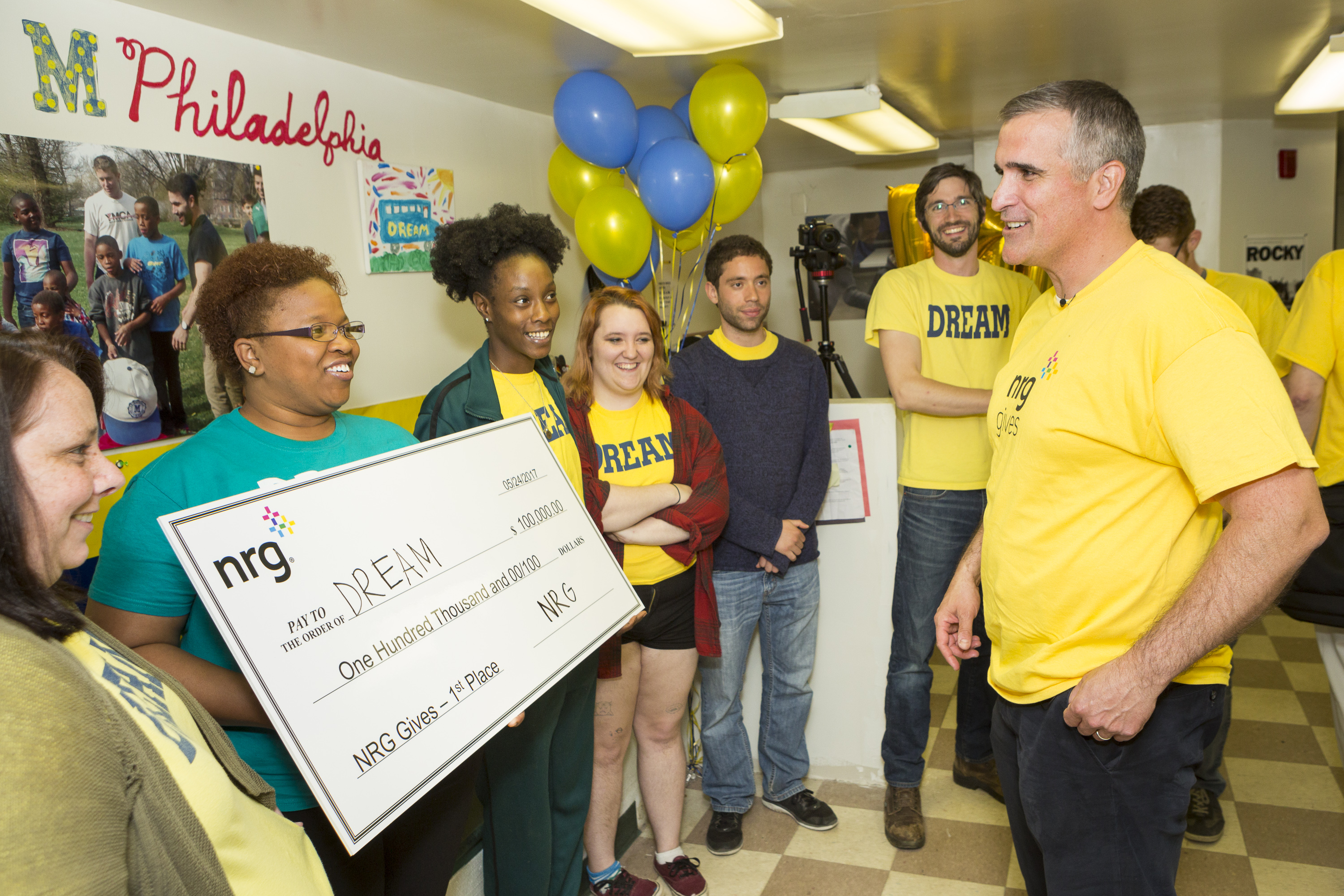 "This incredible gift is an absolute game changer for our organization," said Jennifer Horan, Regional Director, DREAM. "$100K will enable DREAM to invest in each of our program sites and expand to new low-income communities in Philadelphia to reach more deserving youth. We'll also apply this award to funding the 'Creation Station,' a multi-purpose program center offering hands-on music and arts programming, providing children from all of our sites a safe, creative play space for urban exploration and artistic expression."
"It's been fun and rewarding to give back to these important organizations," said Mike Starck, general manager, NRG. "DREAM Philadelphia does such amazing work so we are excited to see this money put to use to help further its mission."  
Two additional nonprofits, Friends of the Wissahickon and Career Wardrobe received $10,000 and $5,000 donations, respectively, based on the public vote total. Nearly 300,000 votes were cast in all.
"The staggering vote total is a testament to the life-changing work Friends of the Wissahickon and Career Wardrobe also do for our community," Starck said. "I encourage the public to continue to support them."
The mission of NRG Gives is to support causes that are important to the people and communities NRG serves. Through the program, NRG employees nominate and the public at large votes for the organization of their choice. In total, NRG Gives has awarded $230,000 to various Pennsylvania nonprofits since launching in December, 2016. 
NRG Gives is one of several philanthropic programs designed to support deserving nonprofits where NRG's employees and customers live and work. These include NRG's Choose to Give program which benefits Big Brothers Big Sisters Independence Region, Children's Hospital of Philadelphia, duPont Nemours Hospital for Children, and Philabundance.