NRG Power Perspectives
Executive Blog
Energy Rising: Harvard Business Review panel explores growing impact and higher profile of energy among C-Suite executives.
May 10, 2017
There is no doubt that new technologies are having major impact on the way businesses approach and implement their energy strategies.
But technology alone isn't the whole story. It never is. 
We've seen an equally important change agent in C-Suite executives who are becoming more and more engaged in energy, and driving truly integrated solutions throughout their companies. 
That idea came forth during a recent Harvard Business Review event, sponsored by NRG. Every solution needs a champion and the bigger the solution, the bigger the champion needs to be. Several of those champions were on HBR's panel, and their insights into energy's climb up the corporate agenda were compelling.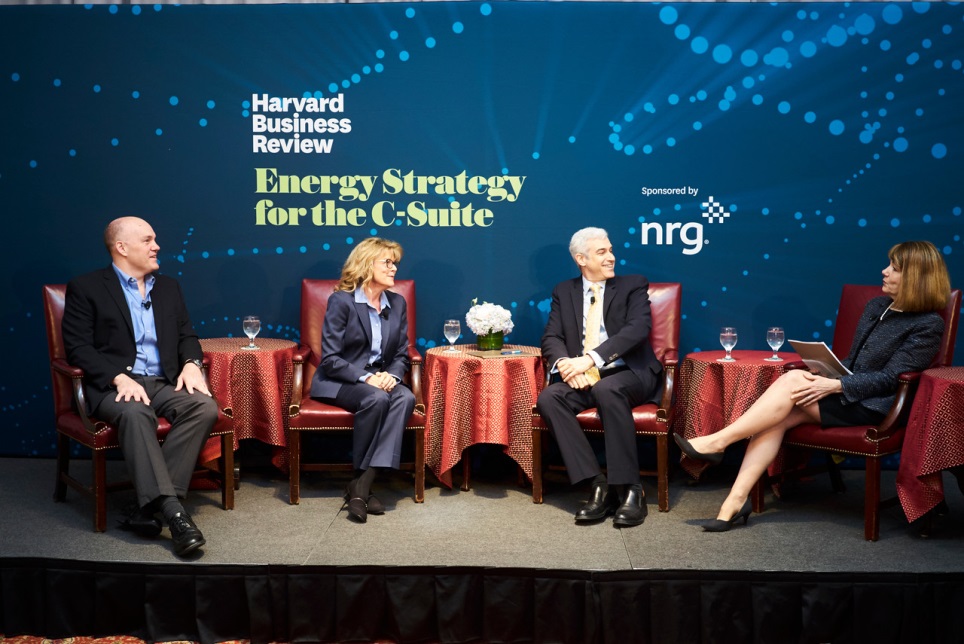 From left to right: Panelists Greg Jason (Cargill), Cindy Ortega (MGM Resorts International) and Andrew Winston (Author and Harvard Business Review contributor) kick off Energy Strategy for the C-Suite with Harvard Business Review's Editor for Special Projects and Research, Angelia Herrin. Photo credit: Elie Honein Photography.
One of our customer partners, MGM Resorts International's Chief Sustainability Officer Cindy Ortega, talked about energy's rise from a cost item at her company to a more integral component of their business strategy. Cost savings are still a goal, but now energy savings are being reinvested into technologies that deliver even higher-level energy management improvements. Another panelist, Cargill's Greg Jason, spoke about his company's long-standing commitment to energy goals and how C-level executives have actively revised them over the years to take on new and more important targets.
The entire discussion, which also featured Andrew Winston, noted co-author of Energy Strategy for the C-Suite, demonstrated how a business mindset and business leaders drives energy solutions that are more measurable and impactful than ever before.
You can watch the recap and download the accompanying report by following this link.