NRG Power Perspectives
Executive Blog
More than "Please" and "Thank You": Reliant Customer Experience Rises to the Next Level
August 17, 2017
Each week at Reliant, our customer experience (CX) team circulates a "Feel Good Friday" email filled with inspiring feedback from our customers. The email is a great way to share positive news and validate our employees' devotion to excellence. It's also a reminder that our customers have a choice, so everyone at Reliant – from our call center to product development to marketing to IT – must work hard to earn and maintain their trust.
As a 4th generation Texan, part of what fuels my passion for customer experience is we care for our neighbors and friends. We also have a great opportunity to give a Texas-sized welcome for newcomers to the state – some of whom have never had the opportunity to experience the benefits of a competitive electricity market.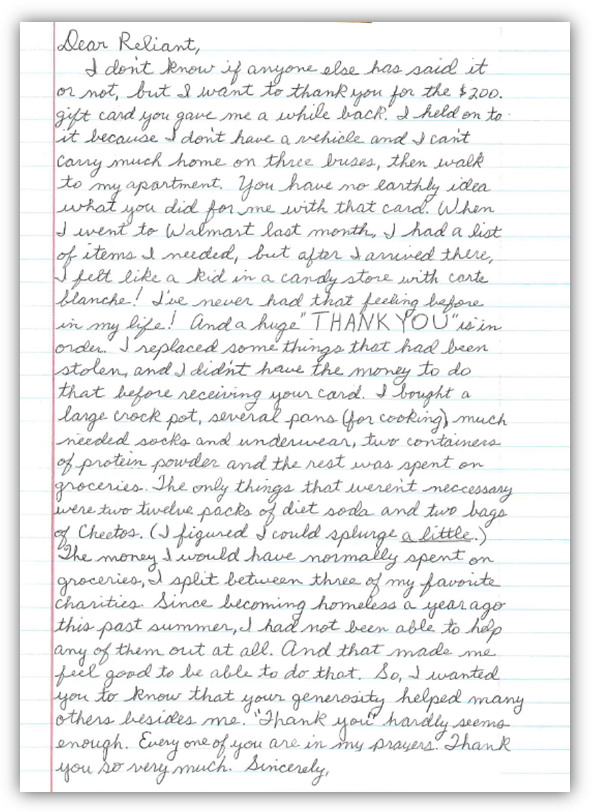 We value all customer input, and use these candid insights to guide an innovative focus on building relationships with our customers. That same spirit drove the evolution of our CX program in phases over several years – engaging employees across all departments of the organization, setting benchmarks for success and holding everyone accountable for delivering on our customer-first culture.
And, our hard work is being recognized:
Reliant was honored with a Customer Experience Elite Award by MaritzCX for achieving exceptional performance in 2016, including renewing more customers than in any other year. 
Reliant's primary CX metric, which measures how likely a customer is to recommend Reliant to friends and family, increased by 152% from 2015 to 2016.
Awards are always nice, but what matters most are heartfelt words of approval from our customers:
"In the short time I have been with this company, I am very satisfied. You seem like a company that actually cares about its customers and wants to keep them informed."
"I've been with Reliant since I moved into my first apartment over 25 years ago. I can remember the very first day I went to my mail box and received my first bill... Always happy to come home and turn on my lights and all the things that I love in my home."
"I have been a Reliant customer for two decades. I talk to friends who use other providers and they seem to have a lot of complaints about service and price. In my opinion Reliant delivers on both and I'm very satisfied."
"Whenever there have been any questions, I have been able to call and receive answers. When I have needed payment assistance, I have received it. I appreciate all that Reliant has done in the past and I continue to stay with them as a customer."
"I particularly enjoy the weekly energy reports you send and the challenge for me to be one of the most efficient homes! It gives me great joy and pride!"
These kind words illustrate what drives us to win the hearts and minds of our customers. That in turn means happy and empowered customers who find calling or chatting online with our call center reps a positive experience. Customers who aren't afraid to let us know they need help with their bill, because we understand and do our best to help. Customers who call with a problem and are relieved to discover their issue is addressed quickly and with a solution catered just for them – just like our electricity plans.
I have the privilege of experiencing this culture first-hand when I walk the halls and join meetings to discuss overall customer feedback. Or, when I take a day and work alongside our call center reps, hearing questions from our customers, listening to their compliments and resolving any concerns. I've talked with employees who, while perhaps more behind-the-scenes with their daily duties, are passionate about designing experiences that make customers want to stay loyal to us.
Sometimes it can be challenging, but our employees are up to the task and eager to assist. Every customer interaction is an opportunity to reinforce our commitment to being helpful, easy and reliable, to demonstrate that we "have their back" and earn their business every day.
Elizabeth Killinger
Elizabeth Killinger is the president of NRG Retail and Reliant. You can follow her on Twitter as @EKillingerNRG.
Read their full bio